On July 28th, 1866, the
U.S. Army Reorganization Act
authorized the formation of 30 new units, including two cavalry and four infantry regiments "which shall be composed of colored men." These men became known as "Buffalo Soldiers." There is no consensus on the origin of the Buffalo Soldier name, but a common theory is that it was bestowed upon these units of African Americans soldiers by the Cheyenne Native American tribes of the area. The actual Cheyenne translation that was given was "wild buffalo."
The Ninth and 10th Cavalry and the 24th and 25th Infantry regiments were stationed at Texas forts stretching from the Panhandle to the Valley. In addition to keeping the peace on the Western frontier, Buffalo Soldiers built roads, telegraph lines, and forts, and mapped vast portions of the Texas frontier. One group worked as some of the first
park rangers
in national parks. Additionally, the first black graduate of West Point,
Lt. Henry Flipper
, served with the 10th Cavalry in West Texas.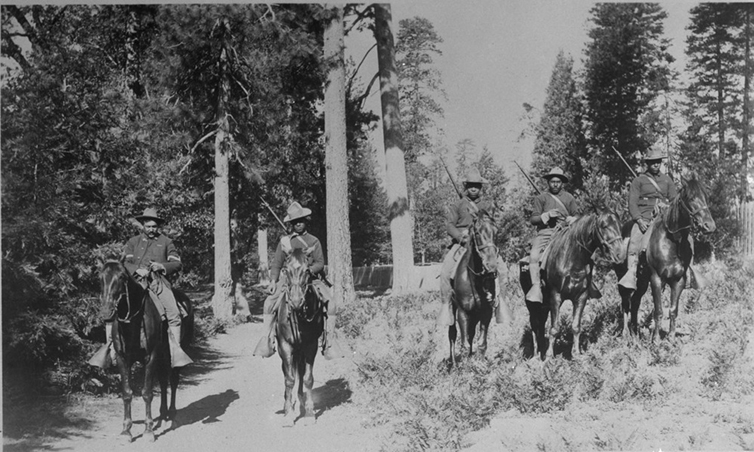 Images left to right: Lt. Henry O. Flipper, circa 1877, Records of the U.S. House of Representative National Archives and Records Administration; Buffalo Soldiers in the 24th Infantry at Yosemite National Park, circa 1899, Library of Congress, Prints and Photographs Division, Alfred Bendiner Memorial Collection
Cover image: Formation of Black Soldiers, after Spanish-American War;

Library of Congress, Prints & Photographs Division